Joe Budden Slams Somaya Reece, Kat Stacks 'P*ssy Look Like KFC's Double Down'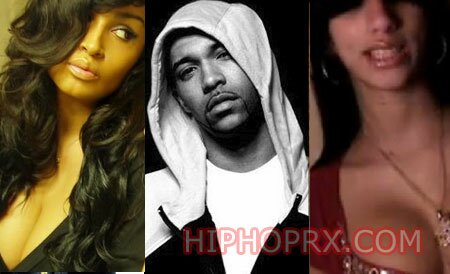 Joe Budden recently took to his Twitter account to ventilate on a couple of females in the Hip-Hop world. Check Out What He Says!

Rapper Joe Budden airs out his thoughts on alleged Hip-Hop groupie Kat Stacks and ex-girlfriend model/singer Somaya Reece via his Twitter account. Prepare to Laugh Out Loud!
"@ihatekatstacks i dunno whats worse, u… or the idiots that f*ck yo a** w/o droppin a odor eater in u …," he wrote Monday (May 3).
"@ihatekatstacks u get paid to f*ck but u still broke ??? n*ggaz is gettin discounts on that box or they just get it on the strength ??"
"@ihatekatstacks u look like a bowling pin w/o the curves ??? u be puttin lip balm on your p*ssy ??"
"@ihatekatstacks your p*ssy got a iphone app ??"
"@ihatekatstacks i'd stick my d*ck in cat litter b4 i Showed u my boxers b*tch !!! … lol…."
Here's the headliner:
"@ihatekatstacks p*ssy look like KFC's double down ?? (ok, i'm done 4real this time) …"
Oh man that one was original, ( Not Original KFC, no offense though)
After Budden finally finished roasting Kat Stacks, he then turned his attention to his ex model/singer girlfriend Somaya Reece.
"@Somaya_reece u still breathin ?? i thought u disappeared along with that bullsh*t a** single u put out … u sure u wanna do this ??"
Budden is referring to 'Tramp' that was released by Reece in early March.
"@somaya_reece u got horrible implants & stretch marks everywhere, u sure u wanna do this 2 yourself ??"
"@somaya_reece & @ihatekatstacks p*ssies should collab on the Beamer, benz or Bentley beat ??"
"@somaya_reece u finished that Rosetta stone now u wanna wild out ?? stop sending people DM's about your wet dreams n*gga …"
There you go, hmmm..
No word yet if Stacks or Reece ever responded to Budden's comments.