Kobe Bryant's 'Little White Robin Hood' Photo Shoot: LA Times Magazine (Pics)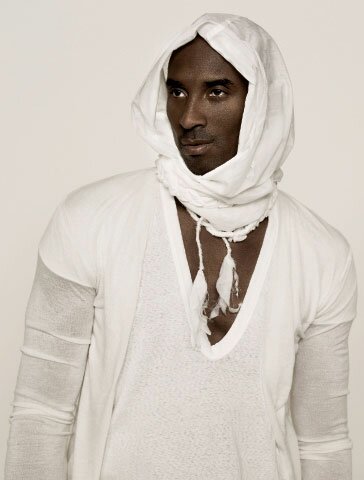 What in the world was Kobe thinking when he did this photo shoot? I'm just a reporter so it's up to the fans to comment if you like. Check the photos out of Kobe Bryant in his 'All White Affair,' you can call it, with himself. WTF?

L.A. Lakers star Kobe Bryant posed in all white for a Los Angeles Times photo shoot he did for an upcoming interview in the magazine. But there's just one problem. He looks like 'little white robin hood' or somewhat 'mummified' in some photos and in others he looked like he was getting ready to be buried.
In one odd photo, Kobe is seen wearing a v-neck tee with some hindu-like scarf around his head. Who does that? Kobe even said that his L.A. Times photo shoot was "a little too artsy."
In another photo, Kobe is dressed in a 2-piece suit, nothing wrong with that, right? Yes, he looks as though he has been embalmed. Not the Kobe that has four championship rings, but a Kobe who has just hung himself.
What do you think of these photos of Kobe?
Pictures of Kobe Bryant Los Angeles Times Magazine All-White Photoshoot

More photos of Kobe Bryant Los Angeles Times Magazine All-White Photo Shoot – May 2010