Floyd Mayweather vs. Sugar Shane Mosley: Full Fight, Recap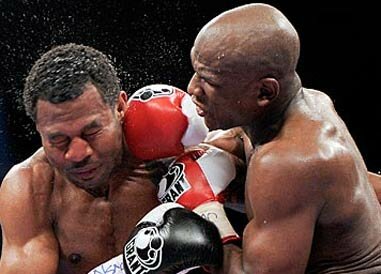 Floyd Mayweather vs. Sugar Shane Mosley — one of the most awaited boxing fights this year has just been finished, and the results are in — Floyd Mayweather Jr remains undefeated defeating Shane Mosley at the MGM Grand Garden Arena in Las Vegas, Nevada.

Floyd Mayweather didn't win in a knockout but did take home a unanimous decision over Shane Mosley in front of a crowd of more than 15,000 people including several boxing superstars and celebrities in attendance for the highly anticipated and exciting fight.
Two ringside judges had the fight at 119-109 for Mayweather, while the third judge had it 118-110 also for Mayweather. Past the second, according to the judges, Mayweather won every round.
Punch statistics had Mayweather landing 208 of 477 punches to 92 of 452 for Mosley.
In this big box office fight, Mayweather was guaranteed $22.5 million with probably more once the final pay-per-view buys are in, while Mosley was guaranteed $7 million.
Mosley was a stand-in (and a great one) for Manny Pacquiao, who Mayweather was first set to fight but did not fight because Pacquiao would not take a blood and urine test, but that fight may now take place next as Pacquiao has reportedly agreed to testing.
Floyd Mayweather now moves to a record of 41-0 with 25KO while Mosley goes to 46-6 with 39KO.
Watch the Floyd Mayweather vs. Sugar Shane Mosley full fight video: