Hip Hop Mogul Diddy and Nicki Minaj Dating?! Spotted + T.I. and Tiny (Photos)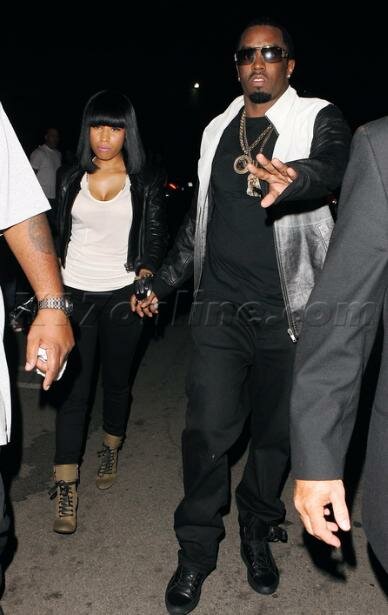 Well, it seems that once again, photos of two people — Sean 'Diddy' Combs and Nicki Minaj — together have sparked the rumors of dating! Can a male and female in the hip hop Industry be spotted together anymore?! Especially when the person spotted with you is your manager or business associate?!

As recently reported on HipHopRX.com, Diddy has apparently become the new business manager of both Lil Wayne's Young Money recording artist Nicki Minaj and Mayback Music's Rick Ross. Well, it seems that these photos of Diddy spotted with Nicki Minaj has some people thinking they're dating, since his arm was spotted around her… hmmm.
Look, look, he's holding her hand too! Lol. Suspicious?!
Well, this rumor seems to be just that — a rumor. But, who knows?!!
The pictures were reportedly taken at the LA nightclub "Guys & Dolls," where rapper T.I. and Tiny were also spotted as well as Rick Ross was supposedly in attendance as well.