Gloria Velez Disses Nicki Minaj's Hip Hop Lyrics + Proof Of No Booty On Tape?!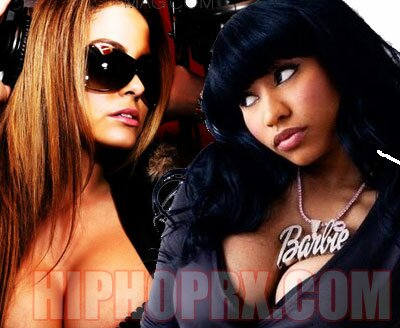 The very sexy hip hop model and rapper, Gloria Velez, aka 'Glo' recently had words about another sexy female hip hop counterpart — Nicki Minaj — while in this video interview for Major Moves DVD.

When asked how she feels about the female rappers in the Industry right now, Gloria Velez, in her very sexy Puerto Rican descent voice, responds "There's only one really out there.. now.. Trina," adding in "Nicki Minaj.. you know like, you can't say who's hot, because she's the only one out," while the voice of the interviewer off camera agrees with "you're right."
Then saying a little more, Velez says, "she's a good gimmick.. she has the right team behind her," adding that "..if anybody else had put her out, or if she was by herself, it would have not popped off, at all. No matter how much plastic surgery or injections in your butt."
Later in the video interview, Velez gives props to Foxy Brown, Eve, Lil Kim [first album], but again refers to Nicki Minaj as a "gimmick" while calling her lyrics "garbage" and just "not hot."
Following that, Velez mocks Nicki Minaj after saying she doesn't have the 'whole package,' showing how she says Minaj just 'grabs her balls' like a dude and 'bats' her eyes [like a barbie] around the stage without giving more to her performance.
Towards the end of the video clip, Gloria Velez then claims to have video of Nicki Minaj out in Queens [New York] "without no booty," while saying she's not mad at Minaj though for 'getting that money' and, if she had the chance, she [Gloria Velez herself], would prance around like 'Jessica Simpson' too.

Watch the video of Gloria Velez talking about Nicki Minaj: