Royce Da 5'9 Confirms Slaughterhouse Signing With Eminem's Shady Records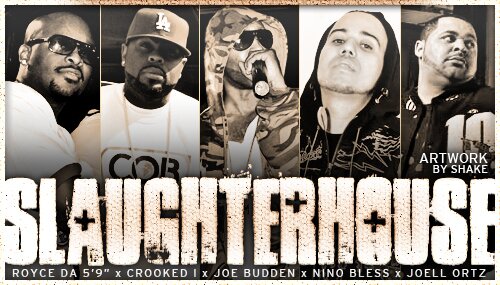 Rumors have been circling the net about rap group Slaughterhouse (Royce Da 5'9, Joe Budden, Crooked I, Joell Ortiz) signing to Eminem's Shady Records. Well it is true my friends!

Royce Da 5'9 recently revealed in an interview that he and the whole group Slaughterhouse will definitely be signing on as Eminem's new proteges in as little as two weeks.
"We gonna make the official announcement and probably have a few release parties. It should probably be done in a week or two I'm guessing," he stated.
Royce Da 5'9 stated that "It was kinda mutual," adding that he "sat down with Paul Rosenberg" and Eminem just so happened to be listening to the album.
"We were just overwhelmed because he knew how good I was, in his own mind, — but I don't think he knew how good Crooked, Joell and Joey was and then that four-group dynamic, I just think he looked at it as it was refreshing to hip-hop," he added.
This comes after Joe Budden revealed earlier this week that the group was in negotiations with Shady.