Lady GaGa Go-Go Dancer Pictures [2007]: From Go-Go Dancing To Fame (Photos)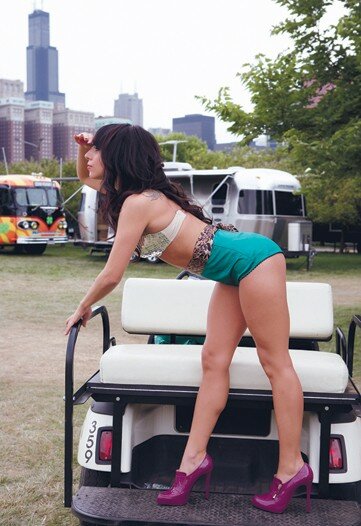 Before Lady GoGo, I mean Lady GaGa, rose to stardom with her very first hit 'Just Dance,' the pop star was apparently a Go-Go dancer who loved Motley Crew.

Lady GaGa, who was born Stefani Joanne Angelina Germanotta, was reportedly a Go-Go dancing metal enthusiast with long brown hair.
Reportedly, she was known to practice Go-Go dancing at New York's Club Le Royal and at The Beauty Bar back in 2007 before she became the biggest pop star in the world.
A source who knew her back in the day tells RadarOnline, who obtained the Lady GaGa Go-Go Dancing pictures, that Gaga was really into her metal music and that the pop star always wore a black leather jacket. The source went on to say that Lady Gaga didn't have much of a personality and was a quiet metal girl. The unknown source says they also had no idea that she would transform into an "outrageous dance" mega-star.
It was mentioned that Lady Gaga was always out partying at St. Jerome's pub and rated X Saturday night parties at Le Royale's which she always attended. The singer stayed dancing and hanging out with her tight knitted group of friends.
The source even revealed that the relationship between GaGa and her ex-boyfriend, music producer Rob Fusari, ended on a bad note and that he is currently suing her for $35 million dollars.
As reported on HipHopRX.com, Rob Fusari claimed that he came up with Lady Gaga's name and he helped transform her by getting her to perform dance music instead of punk/metal.
Lady GaGa Go-Go Dancing pictures [2007]