Rosa Acosta Cuts Her Hair Off + Recent Club Pictures With Trey Songz (Photos)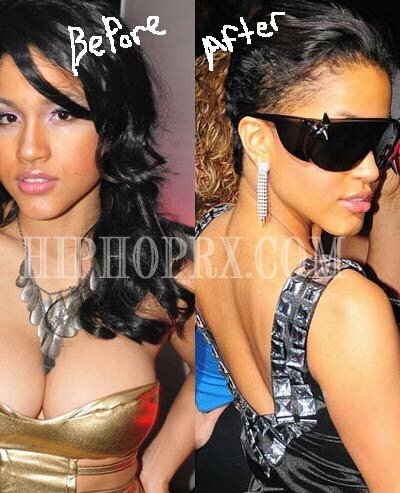 The sexy new 'It Girl' Rosa Acosta has pulled a Britney Spears by cutting off her hair! Not because she's a maniac who is deprived of attention but because her hair has been falling out for over 10 years due to a hair loss condition she's had since she was a child.

Rosa addresses cutting her hair off saying although she loves hair like most women do, she cut her hair because it was falling out and she needed to begin her treatments again.
Rosa went on in her statement to "encourage other people out there with a hair loss problem" to accept their reality and "make the most of it."
When Rosa was nine years old and taking ballerina classes, her mother noticed that her daughter's hair was starting to fall out so she began treatment for her condition. Her mother did this because Rosa dreamed of being a ballerina dancer and feared that Rosa would become depressed and suffer anxiety over the condition thus preventing her from pursuing her dreams.
Well, Rosa seems to have no problems following her dreams and definitely isn't let a little hair condition get in her way! Check out some photos of the lovely and sexy Rosa Acosta with her new short hairdo below.
We've also got some photos of Rosa Acosta hitting the night club running into Trey Songz, where you can see the difference between her hair now and her hair then, check em out!