Hip Hop Mogul Diddy's Ciroc Bath Apology To Vodka Rivals For Pee Pee Comments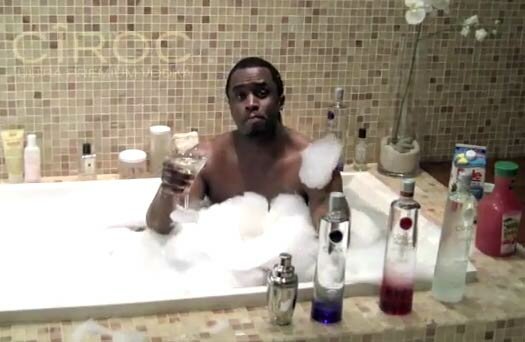 Earlier this month, HipHopRX.com reported that rap mogul and entrepreneur Sean 'Diddy' Combs took to a stage at a New York City nightclub and said "If your not drinking Ciroc then you're drinking pee pee."
The comment literally pissed some vodka owners off especially M.J. Silver who owns Georgi Argent vodka.

Silver then gave Diddy an opportunity to apologize or he would personally deliver a toilette full of Ciroc to Diddy's offices. Silver stuck by his word after not receiving an apology and showed up on Diddy's doorstep with the toilette full of Ciroc which then he was rejected by security.
Now Diddy is apologizing but not in the way you would think. The rap mogul released his apology via Youtube while soaking in a bubble bath with bottles of Ciroc around him.
"Ladies and gentlemen, I come to you today as a man. I feel like only a true man steps up to the plate and people may not agree with his position. And that man says 'I'm sorry,' I'm sorry to all I may have offended. We're sorry for being the best. I am sorry that just that just this weekend, we got awarded the prestigious Double Gold Medal from the San Francisco World Spirits Award for the best ultra premium vodka. This is a fact, you can Google it. I am sorry I came out with these flavors that taste so good."
Diddy seems to be taunting his vodka rivals.
"I am sorry that the competitions sales are down and we are up," said Combs as he held a champagne glass of Ciroc in the tub. "There's nothing I can do about that. I am sorry that I am coming to you live from my bubble bath. I'm not really sorry. It tastes good."
Check It Out!