Kim Kardashian Nude; Caught Kissing Soccer Star Cristiano Ronaldo (Photos)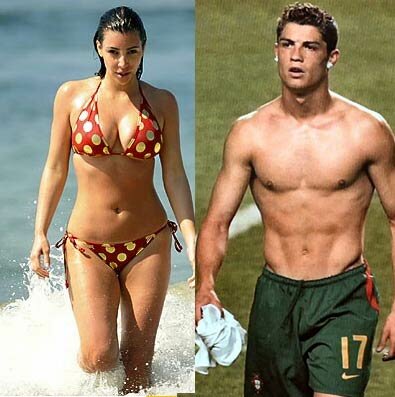 We all know by now that Kim Kardashian is single and ready to mingle but she can't seem to stay away from sports stars and she seems to just love to be naked. Who are we to complain though! Kim, who was recently featured in a nude pictorial for Harper's Bazaar, as reported on HipHopRX.com earlier, has now apparently been caught getting 'kissy face' with soccer star Cristiano Ronaldo.

Kim Kardashian was allegedly spotted in Madrid Spain eating lunch at La Dorado with Real Madrid star Cristiano Ronaldo. The two were being very romantic and affectionate towards one another and were reportedly kissing more than eating.
The pair then allegedly left the eatery separately and traveled in separate cars on the ride to Ronaldo's mansion where Kim stayed for several hours.
Reportedly, the two recently met in L.A. but he heard that Kim was in his city all the way across the globe, so he decided to meet up with the sexy reality TV star.
Cristiano Ronaldo is reportedly the highest paid soccer player in the world!