Kim Kardashian Nude Celebrity Harper's Bazaar Pictures; Butt Naked (Photos)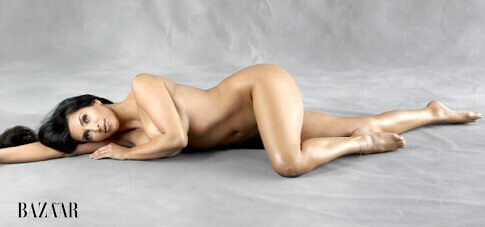 Reality star Kim Kardashian bares all in a nude photo spread in the upcoming May issue of Harper's Bazaar magazine which features her and other nude celebrities.

Kim Kardashian, 23, flaunts her famous no air brushed body in the May issue of Harper's Bazaar magazine. The photo shoot allowed Kim to show off her sexy body without it being retouched or air brushed.
Kim Kardashian wants her message to "embrace your curves" out and says she'd feel proud if young girls looked up to her and said, "I'm curvy, and I'm proud of it now."
But Kim hasn't always felt that way about her body and actually wore a C cup by the time she was 11.
Kim claims she "would go to bed and pray, 'Please, Lord, don't let my boobs grow any bigger'" and "hated what was happening" to her.
She also doesn't understand why her ass(ets) gets all the attention. Are You Serious?
"My butt is probably not as big as you might think," says Kim adding that her "small legs" and "small waist" make her ass(ets) simply "appear bigger."
Photo of Kim Kardashian Naked in Harpers Bazaar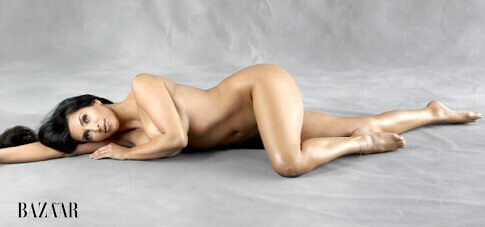 Other nude celebrities featured in Naked in Harpers Bazaar:
Photo of Joy Bryant Naked in Harpers Bazaar
Photo of Amanda de Cadenet Naked in Harpers Bazaar