Erykah Badu Charged, $500 Fine For Naked Window Seat Music Premiere (Photos)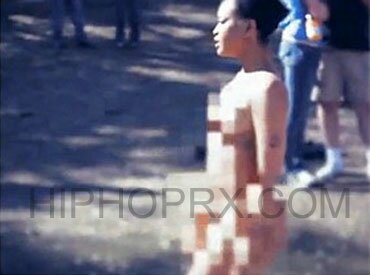 Neo-Soul singer Erykah Badu has caused quite a stir and it's not just for her showing off her assets in her music video 'Window Seat' which she filmed on March 13 in Dallas, TX at Dealey Plaza.

The Neo-soul singer who released her latest music video 'Window Seat' was charged for disorderly conduct for going out into public and stripping down to her birthday suit as bystanders and children watched.
In the controversial video, Erykah Badu can be seen walking throughout the video taking off her clothes layer after layer in what was a resemblance of the site of late President John F Kennedy's assassination. In the video, Erykah Badu ends the video butt naked with a shot to the head.
As many became hot over the issue, authorities sought out someone who witnessed it to come forth before they could proceed in charging the singer. A woman eventually named Ida Espinosa, 32, of Verno came forth and gave a sworn statement.
Erykah Badu faces a fine of up to $500 for disorderly conduct which is a misdemeanor.
Music Video: Erykah Badu – Window Seat
Pictures of Erykah Badu naked in Window Seat music video shoot in Dallas
View more photos of Erykah Badu nude Window Seat music video shoot here.