Akon Protested By Sri Lankans Over Buddha In Sexy Chick; 4 Injured By Stones!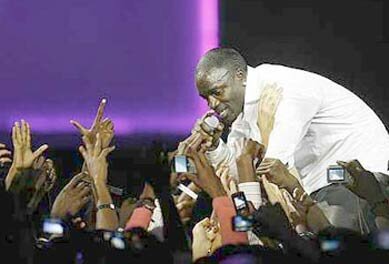 A mob of about 200 began rioting in front of a venue in Sri Lanka to protest an upcoming Akon concert. The rioters began throwing stones at Majaraja Organization's headquarters Monday, injuring four workers and damaging the building.

The protests were over the music video "Sexy Chick' that Akon shot with David Guetta in where women are shaking their booty's at a pool party where a Buddha statue is visible. Buddha is the founder of the Buddhism religion and philosophy. The Sri Lankans were so upset that they began pelting the workers of the Majaraja Broadcasting and Television Network that aired the video. They're holding up protest signs that read, "Stop Akon's Show" and lot more.
Four workers were injured during the melee and cars were damaged as well as broken windows at the TV station where Akon's video was aired.
Shortly following the protest, Akon has released a statement apologizing for offending the Sri Lankans with the Buddhist statue stating he was "not aware that the statue was even on the set.. until now."
Akon says he would "never set out to offend or desecrate anyone's religion or religious beliefs" and is "a spiritual man," that "can understand" why the Sri Lankans are offended, but claims "violence is never the answer."