Jesse James Cheating With Michelle McGee Gets On Sandra Bullock's Blind Side?!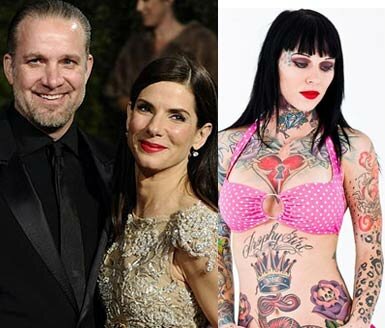 Jesse James, owner of West Coast Choppers and the husband to 'The Blind Side' star, Sandra Bullock, has been caught cheating with model Michelle 'Bombshell' McGee.

McGee released a statement to Intouch Weekly stating she had an affair with James that lasted several weeks while his wife, Sandra Bullock was off filming for 'The Blind Side,' though the 'Bombshell' swears up and down that she thought the couple had split.
McGee says that she went to West Coast Choppers to meet with James for work related purposes when James told her that he and Bullock were living apart from one another. That's when the two began having sex on multiple occasions. The 'Bombshell claims, in her mind, she was having a legitimate relationship with James and would have "never hooked up with him" had she known James and Bullock were still together.
Meanwhile, Sandra Bullock is not happy about her husband's infidelity and is reportedly taking a break from the relationship to figure out if she wants to give James another chance or divorce him.
A close friend of actress Sandra Bullock states that she has been keeping to herself mostly and there are people in her life surrounding her to help her through this matter which includes her family, especially her father. Her unidentified friend goes on to say that Sandra is a strong woman and that her focus should still be on her recent win for an Academy Award for her role in the Blind Side, but instead she's been hiding out angry with Jesse James for his alleged cheating.
More to come!