Step back Cash Money's Birdman! Mike Tyson is the REAL Bird Man! 'Taking On Tyson'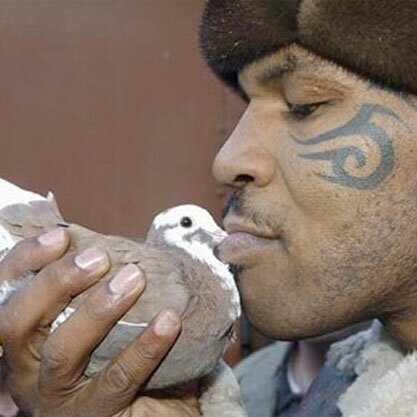 Bryan 'Baby' Williams aka 'Birdman,' rapper/founder of Cash Money Records, home to Lil Wayne, better watch out or he'll have to Take On Mike Tyson for the title of Bird Man! Well, not really, and definitely not in the boxing ring. The former heavyweight boxing champion, Mike Tyson, announces that he will star in his own Reality show, "Taking on Tyson' which will air on Discovery Channel's Animal Planet.
'Taking On Tyson,' reported by others as "Take On Tyson" is a show about Tyson's secret obsession with — birds — specifically, pigeons.

His love for the birds started when he was 10 years old. He used to clean his neighbor's pigeon coops and was allowed to keep the strays as pets. Tyson says he used to steel milk cartons to shelter the birds. He even says the birds were his inspiration to start fighting.
Tyson says he never hurt anybody until somebody hurt one of his birds.
Today, Tyson owns a few hundred pigeons and keeps them in his lofts in Brooklyn and Jersey City.
'Taking On Tyson' focuses on pigeon racing and he competes with top pigeon racers in his city. Mike Tyson is focusing on becoming a top "bird man" in the class of pigeon racers.
"I may have stopped fighting but I never stopped flying birds. It's my first love," say Tyson.
Mike Tyson New Reality Show, 'Taking On Tyson' is set to start filming this spring and is expected to air early 2011.