Nicki Minaj Films For 'Massive Attack' With Cameos From Amber Rose, Drake, more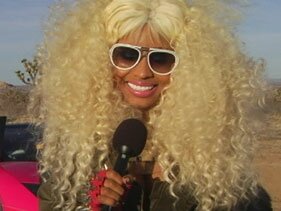 Young Money Recording artist Nicki Minaj shoots her first solo video, 'Massive Attack', in the middle of the desert with BFF Amber Rose and a few of her label mates.
Nicki Minaj wrapped up filming the video for her new single 'Massive Attack'. This video is Nicki's first official solo video with cameos from Birdman, Drake, Sean Garret, who helped write 'Massive Attack', and best friend, model Amber Rose.

"The song is called 'Massive Attack,' I'm excited for people to hear me doing more than one verse. It's really creative. Shout-out to [songwriter] Sean Garrett," stated Minaj adding that "the video is a monsta."
"I brought my BFF Amber Rose out here. This is a massive attack. We shot the helicopter scene," Nicki says.
'Massive Attack' is directed by Hype Williams, whom she met in an airport a week prior to shooting the video.
Though Nicki's next video will be a feature with Usher, you can expect to see her doing alot more of her own thing in the near future as she prepares to drop her debut album.
"You can expect it to be big," says Nicki Minaj. Watch the video of Nicki Minaj talking the "Massive Attack."