Beyonce Named 'Brooklynite' By President For Marriage To Jay-Z + Cosmetology School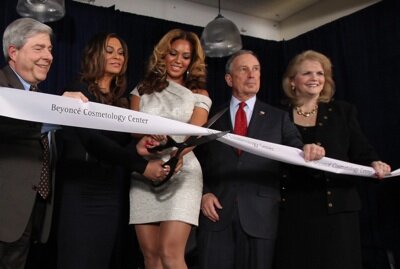 Beyonce Knowles and her mother, Tina Knowles, opened up the Beyoncé Cosmetology Center on Friday (March 5th) offering a seven month cosmetology training course for substance abuse addicts and people who've been diagnosed with mental illnesses. Beyonce has been deemed a 'Brooklynite!'

The Beyoncé Cosmetology Center opened at the Phoenix House Career Academy in Dumbo, Brooklyn.
One of the main goals of the school is to help students lead productive lives while recovering from substance abuse and diagnosed mental illness through a seven month offering course in cosmetology. Beyoncé's aim is to help women overcome their addictions and be successful in life offering a better way.
Her inspiration came from meeting with drug addicted women in treatment at the Phoenix House while she was prepping for her role as Etta James for the 2008 movie Cadillac Records.
Beyonce donated her entire salary from the film to the Phoenix House and will donate $100,000 a year to the Beyonce' Cosmetology Center.
Marty Markowitz, Borough President of Brooklyn, New York City, also deemed Beyonce for (1) her marriage to Brooklyn's own Jay-Z and (2) for her committed community support.