Jay-Z, Beyonce Visit The White House To Meet President Barack Obama (Photos)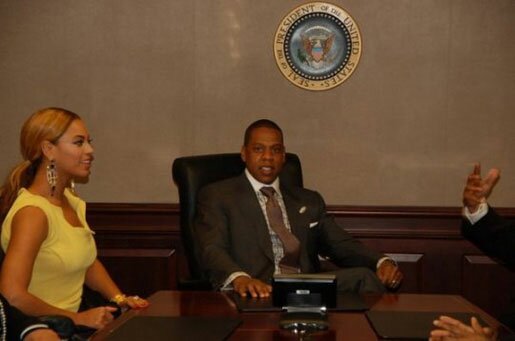 "I just came from 1600 Pennsylvania Ave.," Jay-Z says to his fans who attended his sold out concert at the Verizon Center. Jay-Z along with Beyonce' and her mother Tina Knowles, manager Kevin Liles and Trey Songz had a unscheduled visit with President Obama at the White House on Wednesday night.

Jay-Z and Beyonce', her mother Tina and manager Kevin Liles with singer Trey Songz tagging along, was granted a White House tour and a sit-down visit with President Obama on Wednesday.
Just last month Jay-Z made a comment about having never been to the White House. Well last Wednesday (March 4th), just before he was to perform at the Verizon Center, Jay was granted a tour of the White House and was able to bring his lovely wife and mother-in-law as well.
Jay was photographed sitting at the head of the boardroom table where Obama and countless other Presidents strategically signed bills for congress and held many meetings that has affected our nation today.
Jay says that he has been invited to the White House several times but just hadn't had the time to go. Now that he's kicked it with the President of the United States, whats next for him?