Lil Wayne Covers Rolling Stone Magazine: Talks Jail, Tha Carter IV, Twitter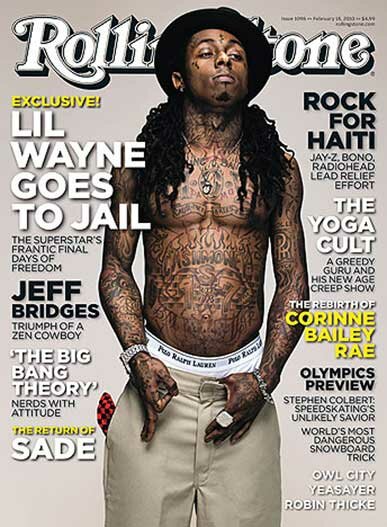 "I don't like to stop, I believe you stop when you die," Lil' Wayne told Rolling Stone magazine as he graced the cover just before he turns himself in on Feb. 9th to serve 12 months in prison, as covered on HipHopRX.com.

Rap star Lil' Wayne has no plans to stop the music before or while he begins his 12 month stint behind bars. Wayne will turn himself in on Feb. 9th to begin his sentence for a 2007 gun possession charge. The rapper gracefully made the front cover of this month's issue of Rolling Stone magazine. Wayne talks work and legal issues and says he sees no reason to halt productivity.
"This is Lil Wayne going to jail. Nobody I can talk to can tell me what that's like," he said. "I just say I'm looking forward to it."
Wayne plans on recording new tracks for his upcoming Carter IV album before he goes in while his label, Young Money, sets up shop in New York City to continue working for the next 12 months. Meanwhile Wayne's manager Cortex Bryant will create a jailhouse Twitter account to keep the fans up-to-date on the status of Lil' Wayne.
Wayne will continue to write music while he serves out his time.
"I'll have an iPod, and I"ll make sure they keep sending me beats," he said.
Lil' Wayne's 'Rebirth' album is in stores now as well as the Rolling Stone magazine featuring Lil' Wayne. Catch the full interview in Rolling Stone magazine on news stands now!!