Girlfight Caught on Tape: Poprah Interviews Danger of For The Love of Ray J, 'I'll Take You F'ing Out'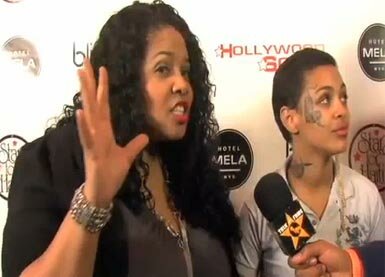 At the Stars For Haiti Comedy Night Event in Hollywood, Kim 'Poprah' Kearney most known from off Sean Diddy Combs' season one reality show 'I Want To Work For Diddy' interviews Monica 'Danger' Leon (known off the reality TV show 'For The Love of Ray J') on the red carpet after people began to speak on her behavior.

Reportedly Danger was first on the stage when Poprah was preparing to make her introduction placing her in the wrong spot and after many people allegedly started saying that she had a bizarre behavior; Poprah later went to interview Monica 'Danger' Leon on the red carpet.
As seen in the video, Danger seems to possibly have been a little distracted as her eyes danced around during in the interview and she continues to look at the guy holding the microphone that cannot be seen. Danger doesn't answer Poprah about being called crazy and says that she's Mexican and Creole and not Black, among other things.
Later in the video, Poprah addresses Danger about her behavior and 'goes off' on her telling her, 'Act like a mature adult or I'll take you f**king out myself. Danger can be heard in the video yelling for "security" before it ends.
Check out the video for yourself of Poprah interviewing Danger of For The Love of Ray J.