Admitted Bisexual Nicki Minaj, Rapper Remy Ma Former Lovers?! Photo Evidence?!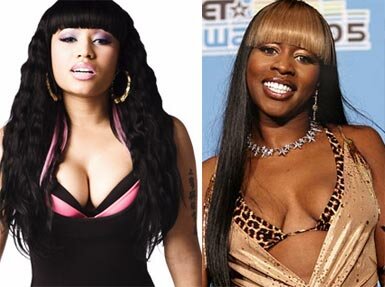 A couple of months back, rumors begin to circulate that rappers Nicki Minaj and Remy Ma use to be lovers and did what most bi-sexual/lesbian lovers do — had sex with each other. This is when supposed video footage surfaced of allegedly Nicki Minaj (dressed as a butch) years ago speaking about her sexual relationship with Remy Ma.

Well obviously, Nicki Minaj disputed this video and allegations which shows an alleged Minaj saying that Remy Ma and 'em quote "ate the box."
Here is the video, see for yourself:
Well, moving right along, here's video of Cliffy Barz, the director behind the video of the alleged Nicki Minaj telling his side of the story of exactly how he came to get that interview with the estranged woman (supposedly Nicki Minaj) on camera.
Later, footage surfaced of Remy Ma confronting Barz during another interview, seen here in this clip:
So, what's really going on?! Below is a picture of the woman on camera (the supposed Nicki Minaj) and a current picture of Nicki Minaj together. After seeing the clips, lookin at the pictures, what's the verdict? Is it Nicki Minaj and are the two, her and Remy Ma former lovers or is this on some Hollywood BS?!