Lady GaGa 2010 Grammy Performance Outfit Silences Hermaphrodite Rumor (Photos)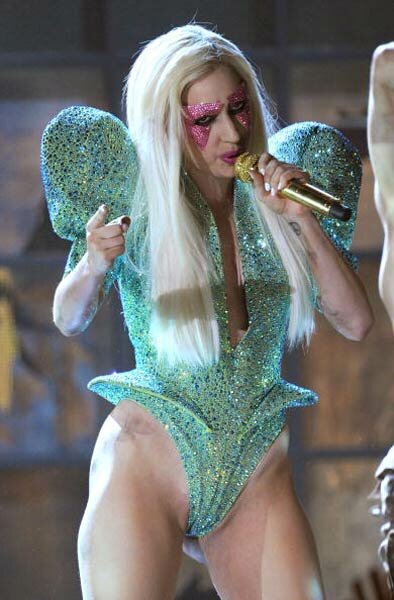 Does the new photos of Lady GaGa's Grammy Awards performance put to rest the rumors that the popular singer Lady GaGa is a Hermaphrodite?! A while back, the rumors started about Lady GaGa being a hermaphrodite due to a concert video and photos that revealed a small 'bulge' between Lady GaGa's legs, as reported on HipHopRX.com. But now in her 2010 Grammys outfit while performing, there seems to be no small bulge at all. Hmmmm. Will this silence the Hermaphrodite rumors which reportedly never really offended Lady GaGa, just only offended her 'vagina,' as she reportedly stated in a past interview.

Nevertheless, Lady GaGa had an amazing performance. She came to the stage with smoke blasting everywhere and dancers that were definitely workin' it. Lady GaGa comes in smoking and goes out with a bang. The duet that she performed with Elton John was wonderful. From an artist such as Lady GaGa, such a performance that meshed so well with Sir Elton was unexpected. After seeing Lady GaGa's Grammy performance and pics, what do you think?
Pictures of Lady GaGa's 2010 Grammy Performance Outfit
Watch Lady Gaga, Elton John's Duet Performance @ The Grammy Awards 2010 [HD].