Lady Gaga, Taylor Swift Take Home 2 Grammy Awards In Album, Performance, Song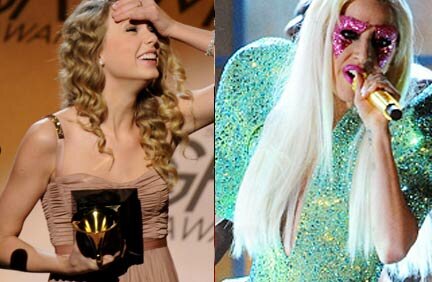 Country music singer, Taylor Swift and pop singer, Lady Gaga were both nominated for record, album and song of the year for the 52nd Annual Grammys.

Taylor Swift was up for eight honors this year, including album, song and record of the year. The country music star (20) won the Grammy for best female country vocal performance, and another Grammy later for best country song. Both awards were for her track "White Horse." Taylor was excited and paid tribute to Liz Rose, her writing partner. Taylor said that Liz wrote with her when she didn't have a reason to, when she didn't have a record deal.
Lady Gaga (23) accepted two Grammys — one for best dance recording of the year for her hit single, "Poker Face" and also received a Grammy for best dance album, 'The Fame.' Lady Gaga was also nominated for best song, record and album of the year.
Logon here for a complete of the 2010 winners of the 52nd Grammy Awards.