Khloe Kardashian Gives President Barack Obama A Hand! Gets Twitter Excited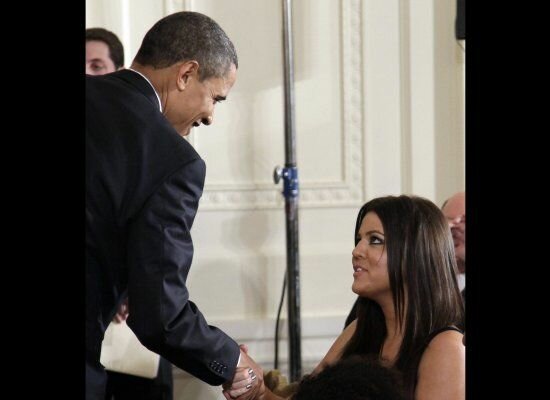 President Barack Obama honored the Los Angeles Lakers team for their 2008-2009 NBA Championship and the 'Keeping Up With The Kardashian's' celebrity socialite, Khloe Kardashian was on-site to attend the event along with hubby Lamar Odom.

The reason behind Khole Kardashian-Odom gracing the President with her presence is her husband and basketball player, Lamar Odom is a part of the team.
While accompanying her husband, Khloe Kardashian-Odom even got a little shine time with President Obama who greeted her with a handshake as she looked at him as if she lost the ability to speak.
The newlyweds not only got a chance to meet the president, but also a chance to see the White House.
Also in attendance was Kobe Bryant and his wife Vanessa. Kobe presented the President with an L.A. Lakers jersey labeled "Obama #1″ as the team posed for a picture with the President.
After the event, Khloe excitedly tweeted, "I just met Obama with my husband! :)"
Wow! What an honor – go Khloe!