Kanye West, Amber Rose and Chris Brown Hang Out at Paris Fashion Week (Photos)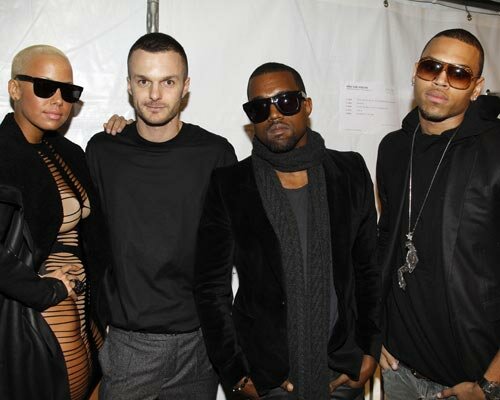 As reported yesterday on HipHopRX.com, Kanye West and Amber Rose have been spotted several times wearing some 'fashionable' wear for fashion week. It looks like Chris Brown joined the celebrity hip hop couple as they were spotted together posing for pictures while at one of the fashion shows.

The three attended the American designer, Kriss Van Assche's fashion show to preview the new 2010/2011, autumn/winter collection. While attending the Adam Kimmel's fashion show the previous day, Chris Brown sported a Michael Jackson chain.
It's nice that the three are being fashionably friendly as questions have been raised by the public about why Kanye would be hanging with Chris Brown after what he did to his 'sister.'
Check out pictures of at Kanye West, Amber Rose and Chris Brown hanging out at Paris Menswear Fashion Week Autumn/Winter 2010 in Paris, France.