Kanye West, Amber Rose Spotted in Implied Nude Outfit at Fashion Week (Photos)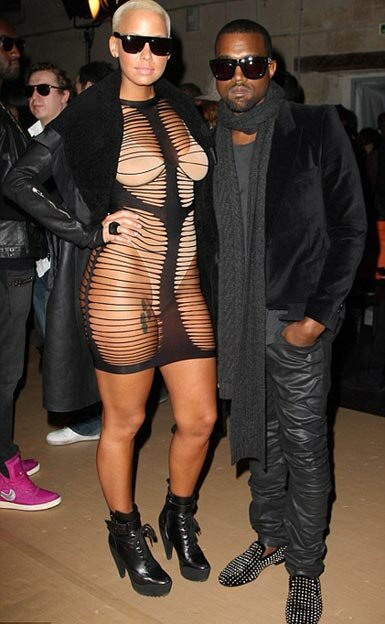 Kanye West and girlfriend Amber Rose were spotted at the Yves Saint-Laurent fashion show, part of Paris Menswear Fashion Week Autumn/Winter 2010 in Paris, France. While Kanye West chose more tasteful clothing, Amber Rose's outfit, if you can call it that, looks like it had been run through a paper shredder.

The day before the fashion show, Kanye West and Amber were walking around in fur coats. Amber's colorful coat looked like multi-colored snowballs were stuck to it. At the fashion show, most likely Amber was the center of attention. Do you think it was because what she was wearing was obnoxious and a little too skimpy, or do you think the outfit looks sexy?
By the way, also spotted in a picture with the couple was Chris Brown.
See pictures of Kanye West and girlfriend Amber Rose in in see-through outfit at Paris Fashion Week.

See more pictures of Kanye West and Amber Rose at Paris Fashion Week