Venus Williams Commando Pictures, Flashes Booty In No Underwear?! (Photos)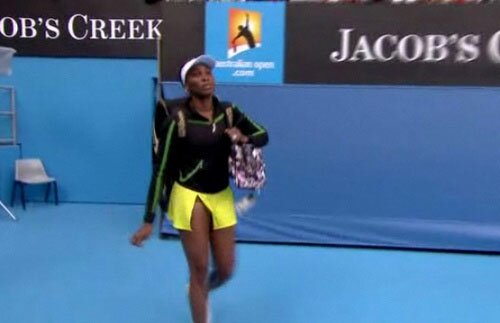 Did Venus Williams 'Go Commando' and wear no underwear at Australian Open or what?! That's what the talk is. Tennis star Venus Williams caught the eyes of 'everyone' after advancing to the next round of the Australian Open 2010. Not only did she win, Venus was showing her 'Moon'! There are rumor's and photo's flying around the web of Ms. Williams looking as though she wasn't wearing any underwear! Was she? or was she not?

The spotlight has been on tennis star Venus Williams for her victory in the Australian Open and showing us that wonderful booty. Many people believe that Venus advanced to the next round pantyless and it doesn't seem to matter that she had on an under garment that was the exact color of her skin. It was tight and it looked real! All they care about is getting to see what Venus' Moon would look like. It looks like heaven!
So what is all the fuss about? If you look closely at her breast in one of the photo's, you will see that Venus is wearing a chocolate brown under garment that matches her skin. That should explain why she looked as though she wasn't wearing any panties. She may have had the same thing on underneath her skirt.
"But it looked so real and nice, and she played so well!"
So called pictures of Venus Williams Going Commando with no Underwear (not true, but nice thought!)