Caught On Tape: CNN Anchor Anderson Cooper Saves Haitian Boy Beaten By Looters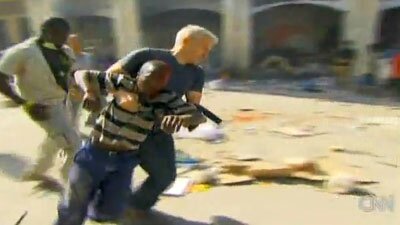 CNN News anchor Anderson Cooper of 'Anderson Cooper 360′ rescues a young boy who was beaten and stoned by looters.
As Anderson Cooper filmed from his personal T.V. camera, looters in Port-au-Prince are robbing stores of their goods and taking other merchandise from people who have already gotten past police and into the businesses. "It's a matter of who's stronger," says Cooper. During the melee, Cooper spots a rock being thrown from a roof of a building, hitting a young boy in the head. Cooper then stops filming and picks the boy up and pulls him to a safer area of the chaos where he hands the boy over to another man on the other side of a barricade. Cooper has no idea where the man took the boy, he just hopes that he will get help and will be OK!

Port-au-Prince, Haiti was hit with a 7.0 earthquake last week, devastating the area. Looters have been ravishing the city and stripping it of its goods. Relief officials are frantically searching for survivors and have been hit with a reported 6.1 aftershock, as reported on HipHopRX.com, causing more damage and causing the death toll to rise to over 70,000 with an expected 100,000 feared dead.