Wyclef Jean, George Clooney, Anderson Cooper Celeb Telethon: Hope For Haiti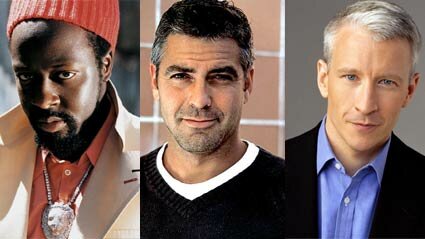 George Clooney along with Haitian-born rapper/activist Wyclef Jean, founder of the Yele Haiti Foundation, and CNN's Anderson Cooper will be simultaneously hosting a telethon entitled 'Hope for Haiti,' to give aid to the victims of the earthquake in Haiti.
Mr. Clooney will host from Los Angeles while Wyclef Jean will host from New York and the CNN anchor, Anderson Cooper, will be in Haiti.

The telethon will be aired on ABC, CBS, NBC, FOX, CNN, BET, CW, HBO, MTV, VH1 and CM, in addition to the MTV Networks International, CNN International and the National Geographic Channel.
Donations raised during the 'Hope For Haiti' telethon will benefit the organizations Yele Haiti Foundation as well as Oxfam America, Partners in Health, the Red Cross, and Unicef.
There will be celebrity appearances in support of the telethon. George Cloney was reportedly, actually, recruiting dozens of his fellow celebrities at the 67th Annual 2010 Golden Globe Awards.
Expected performances include the likes of pop stars Justin Timberlake and Christina Aguilera plus U2 vocalist Bono, R&B soulful singer, keyboardist Alicia Keys, Sting and others.
The 'Hope For Haiti' telethon will broadcast from 8-10 pm Friday night (Jan. 22).
In related news, according to Billboard.com, singer Lady Gaga is said to be donating all proceeds from her Jan. 24 concert at New York's Radio City Music Hall to the Haitan relief effort.