Kim Kardashian's Booty Is Real! + Cupcakes: To Blow or Not to Blow? (Photos)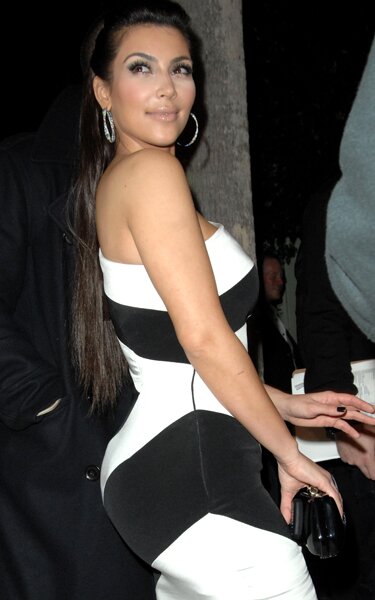 Kim Kardashian was hosting Ocean Drive magazine's 17th anniversary party at the Delano in Miami Beach when a candle-lit cake was brought out. Does she blow out the candles?

According to a report, at first Kim seemed more than happy to pose for her photo opp and blow out the candles, but when she went to blow them out, she realized that the cake was made up of more than one hundred mini-cupcakes. As she backed away from the candlelit catastrophe, she explained that she had a "cupcake deal [Famous Cupcakes] and couldn't pose with a competing product" which was a custom Stella Sweet Shoppe cupcake cake.
Poor Kim, she can't blow. I'm sure the situation caused quite a few giggles amongst the crowd.
In related news, at the same party, Kim Kardashion was wearing this tight body-fitting dress, as usual, but it seems that, this time, the dress put her butt was in question. Some people seemed to have thought that Kim Kardashian's booty didn't look real in her sexy dress and she was wearing butt pads. This is, of course, an allegation which Kim obviously denies claiming that her booty which was fitted in her "gorgeous black and white dress by Rami Kashou" is real and that there were "no butt pads" there, the sexy Kim K wrote to gossip site Media Take Out who reported that Kim was wearing butt pads!!
Look for yourself at Kim Kardashian's Booty and see if it's real?!
We've taken the courtesy of grabbing a couple of other pictures for your comparison!