Actresses Kerry Washington, Kristin Chenoweth Can't Wait To Be Lesbian Lovers!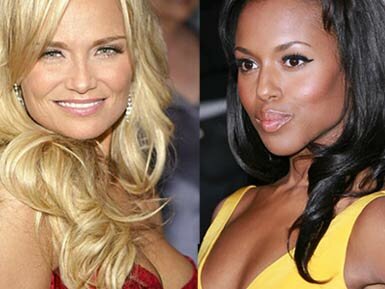 Sexy actress Kerry Washington, most known for her roles in movies such as 'She Hate Me', 'Ray,' 'I Think I Love My Wife,' 'Little Man' and 'The Last King of Scotland,' reveals that she can't wait to play Kristin Chenoweth's lesbian lover in a Dusty Springfield biopic.

According to E! the actress stated that she's been waiting to make out with Kristin Chenoweth forever.
This wouldn't be the first time that Kerry Washington would have had an onscreen lesbian lover. In the 2004 flick "She Hate Me" directed by Spike Lee, Washington played the role of Fatima Goodrich a lesbian lover who was looking to have a child. Her ex-fiance came to her rescue which resulted in him becoming a sperm donor for her due to financial reasons. The ex not only serviced her, but her friends who wanted to also get pregnant at $10,000 a pop.
As for the possible role in the Dusty Springfield biopic, Kerry Washington says that she met with Kristin Chenoweth (who may play the late pop singer in movie) at an eatery and told her that she would love to be her lesbian lover.
Chenoweth wasn't sure if her dream would come true, but if so she definitely had her partner picked out as well, as she told E! months ago, she'd love for Kerry Washington to be her lesbian lover. It looks like things are panning out really well for both of the beautiful actresses.