Golden Globe 2010 Cleavage Edition: Mariah, Leona Lewis, Fergie, etc. (Photos)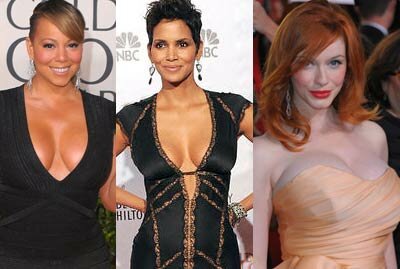 The 67th Annual Golden Globe Awards brought out the stars and some of the stars brought out the cleavage. Some of those who made the Golden Globes 2010 Cleavage Edition were Mariah Carey, Halle Berry, Christina Aguilera, Fergie, Leona Lewis, and more sexy and beautiful actresses, singers, models and personalities.

The Golden Globes 2010 Presenter Halle Berry revealed her lovely cleavage in a low cut, figure-contouring black dress with the back out.
Leona Lewis, who's theme song for the Golden Globe award winning movie Avatar entitled "I See You" was nominated for 'Best Original Song,' also flashed her cleavage while bending over to sign the Chrysler 300 Eco Style charity car for "Stars for a Cause."
The lovely singer and Black Eyed Peas' Fergie, was also somewhat spilling out of her dress as well.
Christina Aguilera's cleavage was not all the way hidden either, in her form fitting dress. But possibly the most overwhelming cleavage of the night may be runner up cleavage award going to actress Christina Hendricks ("Mad Men" and "Firefly") and the winner Mariah Carey for her nicely tanned 'golden globes' which even placed her onto Huffington Post's list of worst dressed just because they say the voluptuous Mariah revealed too much cleavage. Hmmm.
Others who made the list of Golden Globe's cleavage edition were actress Niecy Nash, actress AnnaLynne McCord, Polish actress and singer Alicja Bachleda, New Zealand actress Anna Paquin, model and actress Heidi Klum and more.

Check out the pictures of beautiful ladies that made the Golden Globes 2010 HipHopRX.com Cleavage Edition!