3rd Annual BET Honors: Mary J Blige, Gabrielle Union, Taraji, Diddy (Photos)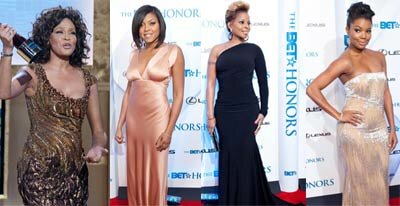 Saturday night, January 16, 2010 marked the night of The 3rd Annual BET Honors which was held at the Warner Theatre in Washington D.C. and the event was a star studded show with appearances from the likes of BET Honors winner Whitney Houston, Sean 'Diddy' Combs, Stevie Wonder, Queen Latifah, Patti LaBelle, Mary J Blige and others.

The 3rd Annual BET Honors was hosted by the ever so sexy actress and former model Gabrielle Union who's known for her roles in movies like "Bring it On" opposite actress Kirsten Dunst, "Bad Boys II" opposite actor/rapper Will Smith and actor/comedian Martin Lawrence, movie "Deliver Us from Eva" opposite LL Cool J and Meagan Good and as a medical doctor in the CBS drama series "City of Angels."
Whitney Houston looked fab in her sequined gold dress while accepting her award, while Gabrielle Union looked lovely as ever in her creme colored dress and mocha skin; Taraji P. Henson wore a satin gown, while Mary J. Blige showed up dressed in a one shoulder black dress with her family.
Meanwhile, hip hop mogul and businessman Sean 'Diddy' Combs showed up looking swag as ever in a suit with his mother, Janice Combs.
BET Honors is set to air February 1 at 8pm CST on BET and will feature performances from Stevie Wonder, Mary J Blige, India.Arie, Patti LaBelle, Maxwell, Trey Songz and others.
Check out pictures from The 3rd Annual BET Honors.
View more pictures here in the 3rd Annual BET Honors photo gallery.