Sandra Bullock, Meryl Streep Kissing At Critics Choice: Hot or Not?! (Photos)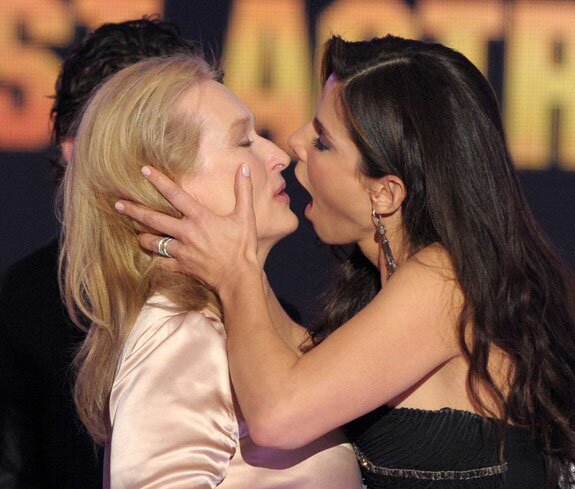 First, Madonna and Britney Spears, then Halle Berry and Jamie Foxx, sexy though not a lesbian moment like the others, now the sexy and talented actress Sandra Bullock who was nominated for the Best Kiss for her role in the movie Speed by MTV Movie Awards has made headlines for planting a big wet kiss on a somewhat surprised-looking actress Meryl Streep at the 15th annual Critics' Choice Awards Friday night (January 15). The lesbian moment lasted but a few seconds but what a few seconds it was — Sandra Bullock, Meryl Streep kissing?!

Meryl Streep had won already for Best Actress for Julie and Julia and was on stage already as the presenter Bradley Cooper called another winner Bullock, full name Sandra Annette Bullock, 45, up to the stage who jokingly says that it's "bullsh*t" followed by lunging into Streep, 60, to plant a kiss on her and make out preceding her touching speech to fellow Blind Side cast members and her family.
Sandra Bullock, who ended her speech saying Meryl Streep was a "good kisser," is an award winning actress known for roles in movies such as "The Blind Side," "Speed," "While You Were Sleeping," "The Proposal," "Crash," "Miss Congeniality," "Demolition Man" and too many other movies to name.
Meryl Streep, too, is known for roles in too many movies to name, with her latest award winning major roles being in movies "The Devil Wears Prada," "Doubt," "Julie & Julia" and she currently stars in the new romantic film, comedy "It's Complicated" alongside actors Steve Martin and Alec Baldwin.
In related news, Sandra Bullock recently was announced as giving $1 Million to the aid in the Haiti Relief effort. Singer Madonna was also announced as giving $250,000 toward the effort which is getting alot of help and aid from the Yele Haiti Foundation as well, founded by Wyclef Jean who has raised over $2 million for the relief effort since the earthquake, as covered on HipHopRX.com. Other celebrities are joining as well including George Clooney, Brad Pitt, Angelina Jolie and others.
Photos of Meryl Streep Sandra Bullock kissing (pictures)