Former Miss Cali Carrie Prejean Sex Tape Scandal Re-lit By Nip Slip!? (Photos)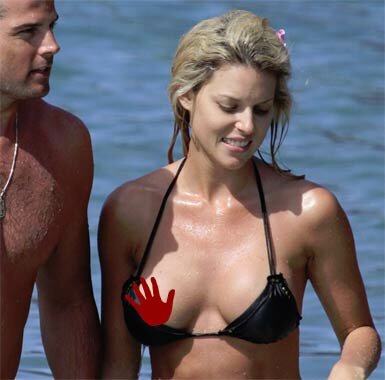 A Carrie Prejean sex tape which was believed to have fallen off the radar has somewhat been re-ignited again after the former Miss California and Miss USA first runner-up was seen vacationing in Hawaii with her NFL player boyfriend, Kyle Boller, exposing herself after her 2 piece swimsuit bikini top kept having a wardrobe malfunction.

Carrie Prejean was seen enjoying herself in the Pacific waters as her nipple played 'can you see me.' The former Pageant beauty even played lip-lock, kissing and enjoyed hanky-panky in the water with her boy-toy.
In one moment, Carrie Prejean and her boyfriend can be seen laughing as her nipple is exposed from her black bikini top as she gazes down at him in front of her.
And for those who don't know who Carrie Prejean is by now, you may remember a beauty pageant contestant who became the talk of the blogosphere world when she answered the question over same-sex marriage which brought on some ranting. Yes, it was Carrie Prejean! After her crown was snatched, she stated she was dethroned over her religious views and then initiated a suit and this is when the racy pictures of Carrie Prejean surfaced.
In November of '09, Carrie Prejean made an appearance on Larry King Live regarding the pageant after news was revealed that she had a sex tape. The beauty queen became so upset over Larry King's questions that she attempted to leave the set and called his questions inappropriate, as reported on HipHopRX.com.
Check out some of Carrie Prejean' nip slip pictures on in a two piece black bikini on the beach with NFL player boyfriend, Kyle Boller.