Forget The Mistresses, Tiger Woods To Help Haiti After Earthquake?!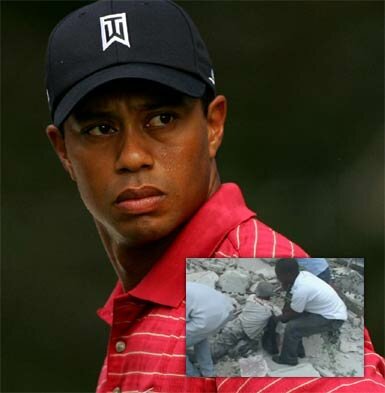 Music industry mogul Russell Simmons aka Uncle Rush revealed that pro golfer Tiger Woods may be helping those in need in Haiti after the tragic earthquake which occurred on January 12, as reported on HipHopRX.com. Haiti an impoverished country was struck by an earthquake that was a magnitude of 7.0 on the Richter scale. The earthquake's impact was so enormous that the hospitals collapsed as well as monuments, homes and schools. In addition, tens of thousands have been reported as dead in Haiti and the final total could be well over 100,000.

In a Twitter post, Russell Simmons has stated that Tiger Woods would be doing something amazing. The twitter post added that Simmons heard that Tiger Woods would be donating to send a cargo plane with a mobile hospital over to Haiti.
Professional Golf player Tiger Woods has been laying low since his mistresses scandal, as covered on HipHopRX.com, and the public hasn't seen him since it went worldwide. Maybe this will give Tiger Woods a reason to come out or to let others know that the people in Haiti's problem is more serious than his mistresses' problem.
To donate and help in Haiti visit Wyclef Jean's Yéle Haiti foundation at yele.org or text "YELE" TO 501501.