American Idol Contestant Calls Mary J. Blige a B*tch! Can't Sing?! F*ck Ya'll!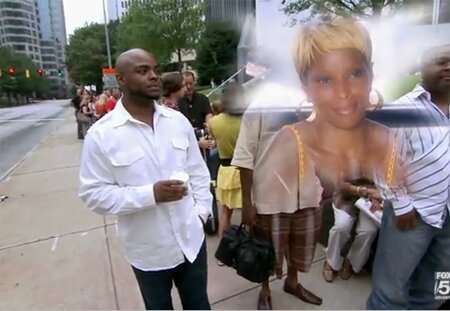 A very disgruntled contestant called Mary J. Blige a bit*h and says she can't sing a lick. But, before he tried out, he was saying how he couldn't wait for her constructive criticism. He had to be escorted out by security but it didn't stop there…

This guy came in and tried out, but when he figured out the judges weren't diggin' him, he did what most pathetic contestants do. He tried another song while being told that wasn't necessary. Then, he tried singing some more. He made a total fool of himself. After, being embarrassed because he was shot down, he resorted to calling names and says that Mary can't sing anyways. Then, after being escorted out by security, he tries singing in the parking lot where he finds a few fans in an SUV that very obviously missed the audition.
Watch the video of the American Idol contestant that called Mary J Blige a B*tch!