The First Ever 'Twitter Murder' is Under Investigation!! (Victim, Killer Photos)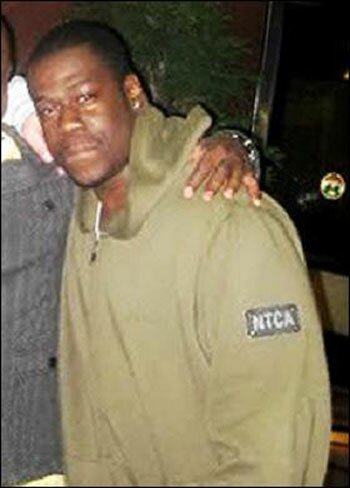 The New York police will probably be asking "Twitter" to provide prosecutors the messages sent between alleged killer, Jameg Blake, and victim, Kwame Dancy. Mr. Dancy was shot and killed after an on-line argument between himself an a 'good' childhood friend, over a female.

N.Y.P.D. alleges that Mr. Blake (alleged shooter) and Mr. Dancy (victim), both 22, were sending each other "angry" messages over a girl via twitter. The Daily News reports that hours before the shooting, Mr. Blake threatened Mr. Dancy with a tweet saying that people were lookng for him, and that Dancy better not make him give up his address so he "betta chill asap."
Mr. Blake's twitter account only mentions Mr. Dancy once by name, saying: "R.I.P. Kwame."
Madeline Smith, the victim's mother told The Sun that she was stunned to learn that tweets between the friend's could have led to her son's murder saying that it wasn't a "reason" to shoot anybody. She also said the two were quote "good friends" that was the "sad part" about the situation.
Mr. Dancy was shot in the neck with a shotgun. Mr. Blake is now facing first degree murder charges in association with Kwame's death.
Photos of the killer and victim involved in the crime now being deemed the first ever 'Twitter murder'.