Rihanna Goes Platinum! Attends Tyrese B-Day Party With Boyfriend Matt Kemp (Photos)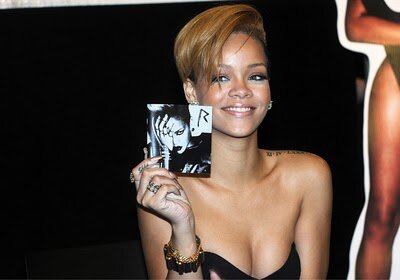 Pop Diva, Rihanna's 'Rated R' has gone platinum five weeks after it's November release with sales surpassing one million copies this month.

Rated R is Rihanna's fourth studio album, with the lead single being "Russian Roulette." Other singles include: "Hard," "Wait Your Turn" and "Rude Boy."
Rihanna was certified Platinum in the U.S. by the RIAA for technically shipping over the 1 million mark.
This will be Rihanna's 3rd consecutive Platinum album in the United States. Rihanna's album "Rated R" follows behind her albums Music of the Sun (2005), A Girl Like Me (2006) and Good Girl Gone Bad (2007).
In other news, Rihanna was recently spotted at a Tyrese Gibson and Tank's Fly and Flashy birthday party at My House in L.A. which brought out the likes of Diddy, her reported boyfriend Matt Kemp who she introduced to everyone, Snoop Dogg, Jamie Foxx, Ray J and others. Reportedly, Rihanna skipped all the scenery at the front door and came through the back to be avoided. Tyrese's party was so crunk the singer Twitted that the police as well as helicopters showed up for crowd control.