Monica Danger Leon Retracts Story, Says Singer Ray J Is Not Gay Nor Young Buck!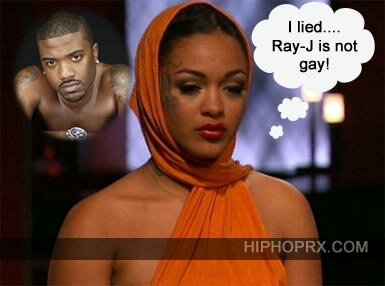 For The Love of Ray J season one contestant, Monica Danger Leon is back with a retraction of her story after going on radio and saying that singer/rapper and actor Ray J was gay and was sleeping with one of his buddies who calls himself Young Buck.

This was first believed to have been Cashville rapper Young Buck formerly of G-Unit but rapper Buck quickly cleared it up and pointed out that it was Ray J's friend that Danger had to be talking about and not him, as reported on HipHopRX.com.
The reality star, Danger now says that everything she said about Ray J was not true during an interview on Power 106 in L.A., and in fact, it was just like Ray J's sister Brandy said via her Twitter — she was mad with him and trying to invoke revenge or him not returning her calls apparently.
According to Danger, she was upset with Ray J and Ray J himself agrees that the both of them were mad at each other but, according to his reply to Danger's initial gay rumor, he still has love for her and they'll more than likely work it out and "be friends again."
Listen to Danger retracting her statement that Ray J was gay in the audio below.
[display_podcast]
TY: Courtney B.