Hip Hop CEO Jay-Z 40/40 Club Bouncers Charged In Savage Beaten: Caught On Tape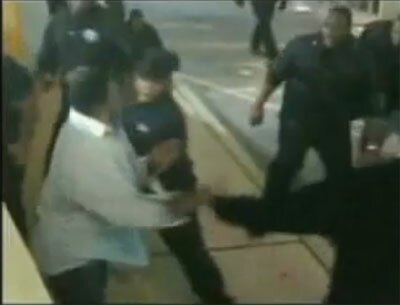 It seems that some bouncers from Jay-Z's 40/40 Club are being charged in a case where two men were savagely beaten outside 40/40 nightclub in Atlantic City. Nine bouncers have been fired due to misconduct and are facing up to fourteen charges each.

AllHipHop reports that Eugene Melody told the Press of Atlantic City that his clients, Leonard Clark (25) and Tyrell Durant (26) have officially filed charges against nine bouncers as of Jan.11th following a "beat down" that took place in the early hours of Nov. 29th as seen in the video taped attack.
The assault was continued outside even while one of the men Leonard Clark, 25, laid on the ground being kicked as also seen in the video, when Tyrell Durant, 26, punches one of the bouncers, turning the group on him.
D.J. Zeke reportedly is took footage of the assault with his cell phone and posted it to YouTube.
The fourteen charges filed against the bouncers include: assault, indictable assault and a charge for spraying them with a fire extinguisher.
New York Post – Police Probe taped beating outside Jay-Z's Atlantic City Nightclub
Jay-Z 40/40 Club Bouncers Caught on Camera giving Two Patrons a Beatdown