Monica 'Danger' Leon Says Ray J Is Gay N Smashed The Homie, Rapper Young Buck!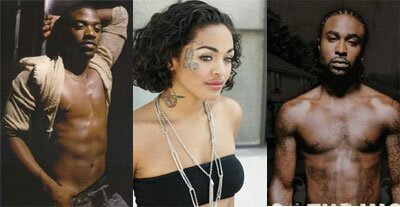 Monica Leon, aka Danger, known from off the VH1 reality TV dating show 'For The Love of Ray J' has broken her silence and is now supposedly airing out Ray J's dirty secrets, she says. Danger, who recently made headlines for losing custody of her baby girl and for being pregnant again possibly by Nick Cannon's brother, says that the singer and younger brother of singing sensation Brandy, is gay and in the closet and has slept around with none other than rapper Young Buck?! Yes, Monica Danger Leon has flipped the script and is now saying that Ray J 'Smashed the homie!'

For the Love of Ray J, the show which introduced 14 ladies to Ray J who was, in return, looking for love and introduced them to new reality TV celebrity lives!
Danger, since the show's first season which aired February 2009, has been involved in controversial headlines one after another. First for making blog headlines for her nude provocative photos, then for possibly being pregnant with Ray J's child, then HipHopRX.com broke this story about Danger revealing that, in her past life, she was a prostitute.
Now, if you watched and followed the "For The Love of Ray J" reality television show then you already know that Danger (known first as the contestant with the tiger tattoo on her face) was busted during the one of the closing down episodes on the show when Ray J had but three girls left to choose from, so he decided to introduce the remaining three ladies (Cocktail, Unique, and Danger) to his closest friends whom he let 'grill' the girls one by one, one on one and group on one!
That's when it was discovered that Danger had slept with one of Ray J's friends before she met Ray J, meaning she quote "smashed the homie!"
Well now it's Danger turning the tables saying in a radio interview that Ray J was gay and slept with rapper Young Buck! Danger stopped by the radio show of the very voluptuous plus size model and radio host Devyn Ashley of Devyn's Playground Radio on 92.5 KYHY in Burbank, a city in Los Angeles County, California and in the audio clip of her 'going in' on Ray J, she (Danger) does not hold her tongue!
"Ray J's gay, I'll tell you why on this show," stated Danger in her interview. "Ray I love you, I respect you but after the two years of Danger 'smashed the homie' t-shirts — what I had to go through first season, me being pregnant by Gabriel [Cannon], you claiming it was you everywhere on earth… you are selling me everywhere, listen n*gga I'm not a pimp hoe, you're not going to pimp me, I'm not Kim Kardashian..," added Danger.
Then busting the bubble, after that, Danger comes with the statement, "Ray J's lover of years is Young Buck."
"I'm really mad too.. Young Buck and Ray J.. going strong f*cking with each other for years, and Young Buck does not have 1 percent of what Ray J has and it's like "Ray J, you're not looking out for your boy?" she continues ending with saying "he likes d*ck too" while singing off with "he likes the boys in the baaand, he says that Young Buck's his all time favoriteeee!"
Well we got a feeling now, you might be seeing Monica Danger Leon in video and photos with Young Buck's longtime rival 50 Cent for his response campaign against Young Buck after the rapper dissed 50 Cent not once (Happy New Year G-Unit Diss Song) but in three songs since the beginning of the new year.
Meanwhile, check out the video below for audio of Monica Danger Leon's radio interview calling Ray J gay and claiming that the hip hop R&B singer has had an ongoing relationship with rapper Young buck for years!!