Chris Hines, Victim Of Lloyd Banks Assault, Speaks Out As Rapper Gets 50K Bail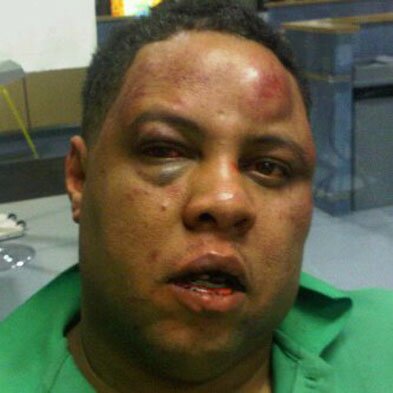 Chris Hines, the booking agent that was thrown into the news headlines after being allegedly assaulted by G-Unit's Lloyd Banks and three other associates, has spoken out about the incident claiming that Lloyd Banks was indeed paid, he worked for them for years, he is a victim and he doesn't know what Banks and the men were thinking when they attacked him.

Hines, who was not a promoter of the event yet played only the role of a booking agent for the event that Lloyd Banks was booked for (at Club NV in Downtown Brantford, of Ontario, Canada), says that Banks and the other men kept him hostage basically for around 20 minutes while they 'worked' on him.
As seen in the bruised picture of Hines leaked online, he suffered from lacerations to his face as well as a bruised eye and a possible trauma to his head.
Hines was later runshed to the hospital following the brutal attack.
The three associates names who allegedly delivered the brutal attack with Banks, were released by MTV as Nicklas Sloane, Shawn McGee, and Tyrell Cooper, reports SOHH.
Lloyd Banks real name Christopher Lloyd, 27, Nicklas Sloane, 25, Shawn McGee, 31, and Tyrell Cooper, 24, were all arrested and charged with aggravated assault, forcible confinement, and robbery in the assault against Hines.
Banks' bail has reportedly been set at $50,000 according to AllHipHop and there is no word on whether Mr. Hines will pursue a lawsuit against or anyone.
Hines, who works under the company name Chris Hines/Ultimate Entertainment, has worked with Banks for years, as reported on HipHopRX.com and stated by Hines himself in his video response.
Watch the video of Chris Hines, the booking agent allegedly assaulted by Lloyd Banks and Nicklas Sloane, Shawn McGee, and Tyrell Cooper, talking about the brutal ordeal, which he was restricted from going in too much detail about.