Jennifer Lopez Sexy Body, Mind In Elle Magazine + Photos and Her Back-Up Plan!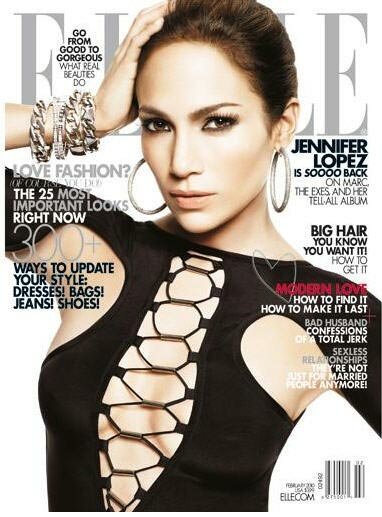 Jennifer Lopez who revealed her new sexy body which seemed to have had a little less backside during the Dick Clark's New Year's Rockin Eve on Times Square, is back again flaunting herself in the February issue of Elle Magazine.

In her interview with Elle Magazine, Jennifer Lopez aka J-Lo revealed that she never considered in vitro fertilization because she's a traditional woman. The dancer, singer and actress went on to state that you don't mess with things like that.
The multi-talented artist also talks on being up against 20 year-old pop idols while being a 40 year old mother.

Further in her interview, Jennifer Lopez talks about betrayal and it being a "f*cked-up" thing and how she has experienced it multiple times in her life.
Jennifer Lopez's full interview as well as cover shoot can be seen in the latest edition of Elle Magazine.
In other news, despite Jennifer Lopez not being a person who wishes to use in vitro fertilization, evidently she doesn't have a problem with others using it because she will star in the upcoming movie "The Back-Up Plan" which is about the life of a single woman "Zoe" who uses artificial insemination and conceives twins due to her biological clock ticking away. The day she decided to get artificial insemination she meets her dream man "Stan" played by Alex O'Loughlin.
"The Back Up Plan" is scheduled to release April 16, 2010.
Movie Trailer – The Back-Up Plan starring Jennifer Lopez and Alex O'Loughlin