Carlos Allen: Third Crasher Goes Un-Noticed At White House Dinner?! (Photos)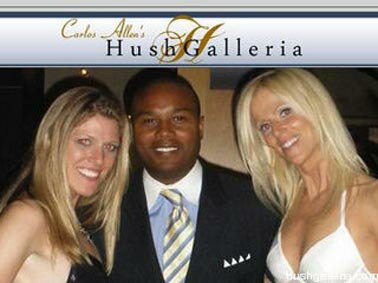 Remember Tareq and Michaele Salahi, the couple who became famous after sneaking in to the White House State Dinner for India's Prime Minister back in November? Well, while Secret Service officials were investigating how the couple managed to get in without being on the guest list, officials discovered that a third person managed to go un-noticed as well — Carlos Allen.

Though the man now identified as Carlos Allen, a Washington based party promoter, did not get close to the President or the First Lady, Secret Service are now investigating Allen as well as the Salahi's to see if they broke any laws.
Carlos Allen allegedly arrived at the White House with members of the Indian Delegation but was not on the guest list. Part of the Secret Service's security screening is a background check that all guest's must submit to before entering the White House. It has been revealed that the Salahi's and Carlos Allen did not go through the background check. So how did they get in?
It has been reported that the The Indian embassy asked the State Department to transport the group to the White House dinner. Huh? Why would National Security and Secret Service allow themselves to provide these services to foreign delegations visiting the United States?
Three Secret Service officers have apparently been put on administrative leave for the security breach.
Secret Service Director Mark Sullivan has said the security breach is his agency's fault but that the president was never at risk.