Singer Monica's Step-father's St. Marks Church Marked By Vandals!? (Photos)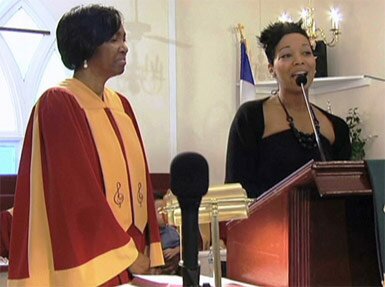 For the second time in one week R&B singer Monica's church owned by her step-father, Rev. Best, has been vandalized.
Vandals ransacked the tiny St. Marks church, of 76 members, in Fairburn, Ga., owned by Monica's step-father, for the second time this week. The treasurer of the church noticed the first break-in after vandals rummaged through the kitchen. Just days later, the vandals came back and only stole a DVD after knocking over a framed picture of Monica and putting a giant hole in an office door of the church.

Rev. Best says he doesn't understand why someone would do this to a church especially at this time of year.
"We can give them food. All they have to do is ask for it. And we can provide them with a DVD player if they want one," said the Reverend.
Police are beefing up patrols around the church to try and prevent it from being vandalized again, the WSB-TV 2 reports.
The St. Marks United Methodist church is the very church where Monica was attending with her family on the her BET reality television series Monica: Still Standing.