HipHop Producer Swizz Beatz, Alicia Keys Partying + House Shopping Together?!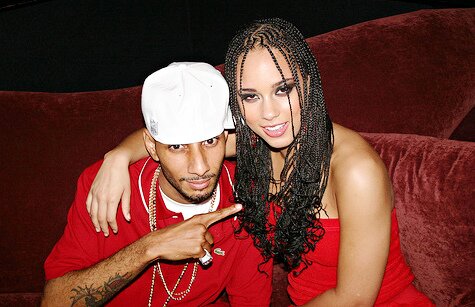 Alicia Keys and her still married boyfriend, Swizz Beatz are flaunting their relationship in public and on-line. Swizz quotes, "What we have is so precious."

According to Smart Sexy Rich & Crazy, Swizz tells them that, yes he is in love with Ms. Keys, but they're nowhere near ready for a baby or a ring.
It appears that Alicia and Swizz, whose real name is Kasseem Mike Dean, are taking their relationship to the next level. On Tuesday, December 29th., Star Magazine came out with the scoop that the hitmaker of "Try Sleeping With a Broken Heart" had already been considering moving in with Swizz Beatz.
The reports emerged after Alicia and Swizzy were reportedly seen house hunting. They were looking at a lavish apartment in their native home of New York. A source said to Star Magazine, " The place is amazing! It even has a 2,000 sq. ft. terrace. Alicia and Swizz were holding hands as they looked around for about twenty minutes."
Back in May of this year, Swizz Beatz confirmed his relationship with Alicia Keys, as reported on HipHopRX.com. He was and still supposedly is married to R&B singer, Mashonda, when he began dating Alicia (28). Swizz and Mashonda have a two year old son named Kasseem Dean Jr. In April of '08, the couple decided to call it quits and Mashonda filed for a divorce in February of '09.
Raw footage of Alicia Keys and Swizz Beatz partying together at release party.