Celebs New Years Resolutions Break Naughty Habits: Rihanna, Ashanti, Melyssa Ford, Hill Harper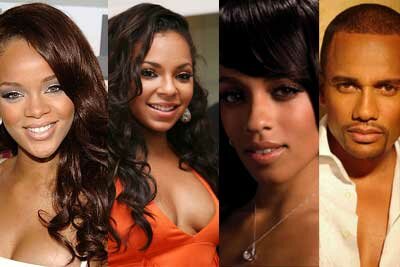 We all know New Years is when many people make their New Year's resolutions to lose weight, gain weight, stop smoking, be more healthy, spend more time with family, start that new career or whatever! Well celebrities are people too with their own resolutions. Some who shared their resolutions with the world were singers Rihanna and Ashanti, the sexy hip hop model and actress Melyssa Ford, and actor Hill Harper.
To start out, Rihanna, who's been through so much since her incident with ex-boyfriend Chris Brown who was charged of assaulting Rihanna back in February 09, had some naughty bad habits, well somewhat, that she wants to quit.

"I want to stop shopping, being late, start waking up early, stuff like that," says Rihanna.
Now Ashanti, Melyssa Ford and Hill Harper, who all shared their resolutions with Global Grind, didn't quite have any habits but had rather simlar resolutions to each other.
Singer Ashanti had two. One was "to join twitter" and another was to "continue to grow, learn and just be thankful."
"To always work hard as humanly possible and then 10 times harder! :)Stay focused, be persistent, succeed," added the beautiful and talented singer.
Now, Melyssa Ford's resolutions were somewhat a hint of naughty habits but she's not telling saying only "My resolution is to dedicate myself to changing my self destructive patterns of behavior through thorough introspection and analysis, discipline, and the strength found in silence."
"To Work smarter, not harder and assist those less fortunate whenever and wherever I can," Ford added.
Now Hill Harper goes back a generation and takes his resolution "from a belief of [his] Grandfather, Harry Harper" as he puts it.
"He believed that every man should own some piece of property completely outright, no matter how big or small," stated Harper.
"So in that spirit and sound advice– I resolve to pay off a piece of property, in full by the end of 2010!" added the talented actor.