BET Releases List of Best 100: Jamie Foxx, Keri Hilson, Soulja Boy, Jay-Z, Jeremih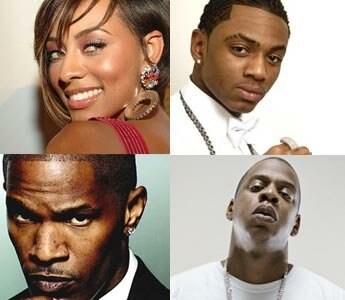 Looking for what was the hottest music videos of 2009 on BET, a NOTARIZED list of its annual video countdown special of the year is available. Check out the TOP 100 videos of 2009 which include Jamie Foxx feat. T-Pain (Blame It), Soulja Boy Tell' Em (Turn My Swagg On), Keri Hilson feat. Lil Wayne (Turnin Me On), Jeremih (Birthday Sex), Jay-Z feat. Alicia Keys (Empire State of Mind), Mary Mary feat. Kierra "Ki Ki" Sheard (God In Me), as well as Yo Gotti feat Lil Boosie, Gucci Mane, Trina and Niki Minaj (5 Star Chick).

If you don't see your favorite artist and their video on the list you know what to do, request them on the request line.
NOTARIZED 2009:
1 Blame It Jamie Foxx f/ T- Pain
2 Turnin Me On Keri Hilson f/ Lil Wayne
3 Birthday Sex Jeremih
4 Knock You Down Keri Hilson f/ Kanye West and Ne-Yo
5 Turn My Swagg On Soulja Boy Tellem
6 Empire State Of Mind Jay-Z & Alicia Keys
7 Break Up Mario f/ Sean "The Pen" Garrett and
Gucci Mane
8 Successful Drake And Trey Songz
9 Pretty Wings Maxwell
10 Day "N" Nite Kid Cudi
11 Run This Town Jay-Z, Rihanna, Kanye West
12 Every Girl Young Money (Lil Wayne, Drake, Jae Mills,
Gudda Gudda, Mack Mane)
13 Diva Beyonce' (Sasha Fierce)
14 Rockin' That Thang The Dream
15 Trust Keyshia Cole f/ Monica
16 Kiss Me Through The Phone Soulja Boy Tellem f/ Sammie
17 D.O.A. (Death Of Auto-Tune) Jay-Z
18 Always Birdman & Lil Wayne f/ Mack Mane
19 Forever Drake f/ Lil Wayne, Kanye West, and
Eminem
20 Ice Cream Paint Job Dorrough
21 You Complete Me Keyshia Cole
22 I Invented Sex/ Say Aah Trey Songz
23 Regret Letoya f/ Ludacris
24 Throw It In The Bag Fabolous f/ The-Dream
25 5 Star Chick Remix Yo Gotti f/ Lil Boosie, Gucci Mane
& Trina, & Niki Minaj
26 Stanky Legg GS Boyz
27 I'm Good Clipse f/ Pharrell
28 It Kills Me Melanie Fiona
29 Last Chance Ginuwine
30 Swag Surfin Fast Life Yungstaz
31 If This Isn't Love Jennifer Hudson
32 Try Sleeping With
A Broken Heart Alicia Keys
33 I Need A Girl Trey Songz
34 Dead And Gone T.I. f/ Justin Timberlake
35 The One Mary J. Blige f/ Drake
36 Obsessed (Remix) Mariah Carey f/ Gucci Mane
37 I Can Transform Ya Chris Brown f/ Lil Wayne & Swizz Beatz
38 Ego (Remix) Beyonce' (Sasha Fierce) f/ Kanye West
39 Love, Sex & Magic Ciara f/ Justin Timberlake
40 You're A Jerk New Boyz
41 Walk That Walk Dorrough
42 Doesn't Mean Anything Alicia Keys
43 Baby By Me 50 Cent f/ Ne-Yo
44 My President Young Jeezy f/ Nas
45 Halle Berry (She Fine) Hurricane Chris f/ Superstar
46 Epiphany Chrisette Michele
47 Digital Girl Remix Jamie Foxx f/ Kanye West and Drake
48 Crawl Chris Brown
49 Better Believe It Lil Boosie f/ Young Jeezy and Webbie
50 So Special Mavado
51 Drop It Low Ester Dean f/ Chris Brown
52 Boyfriend #2 Pleasure P
53 Sweet Dreams Beyonce' (Sasha Fierce)
54 On The Ocean K'Jon
55 Under Pleasure P
56 Spotlight Gucci Mane f/ Usher
57 Money To Blow Birdman f/ Lil Wayne and Drake
58 Never Ever Ciara f/ Young Jeezy
59 Just A Kiss Mishon
60 God In Me Mary Mary f/ Kierra "Ki Ki" Sheard
61 All Of The Above Maino f/ T-Pain
62 Jumping (Out The Window) Ron Browz
63 Mad Ne-Yo
64 How It Was Supposed To Be Ryan Leslie
65 Thinkin About You Mario
66 Gangsta Luv Snoop Dogg f/ The-Dream
67 Bad Habits Maxwell
68 Trick'n Mullage
69 Break Up To Make Up Jeremih
70 Tie Me Down New Boyz f/ Ray J
71 Walking On The Moon The-Dream f/ Kanye West
72 I Get In Omarion f. Gucci Mane
73 Just Like Me Jamie Foxx f/ T.I.
74 Give It To Me Right Melanie Fiona
75 Buy You A Round (Up & Down) Verse Simmonds
76 Chillin Wale f/ Lady GaGa
77 Imma Put It On Her Day 26 f/ Yung Joc and Diddy
78 It's Yours J. Holiday
79 Halo Beyonce'
80 Slow Dance Keri Hilson
81 We Made You Eminem
82 Freeze T-Pain f/ Chris Brown
83 Do The Ricky Bobby B-Hamp
84 Downloaded Lil Kim f/ T-Pain and Charlie Wilson
85 Right Round Flo Rida
86 Arab Money Remix Busta Rhymes f/ Diddy, Ron Browz,
Swizz Beatz, & Akon
87 Ain't I Yung L.A. f/ Young Dro & T.I.
88 Lion, Tigers, & Bears Jazmine Sullivan
89 Imma Star Jeremih
90 Why R U Amerie
91 Amazing Kanye West f/ Young Jeezy
92 Number One R. Kelly f/ Keri Hilson
93 In Dis Club Pretty Ricky
94 Dancin On Me Webstar & Jim Jones f/ Juelz Santana
95 Chocolate High India.Arie f/ Musiq
96 Fresh 6 Tre G
97 Respect My Conglomerate Busta Rhymes f/ Jadakiss & Lil Wayne
98 Everything, Everyday,
Everywhere Fabolous f/ Keri Hilson
99 Video Phone Beyonce'
100 Million Dollar Bill Whitney Houston