Jennifer Lopez and Her Booty Steal New Years Eve In Tight Bodysuit Outfit (Photos)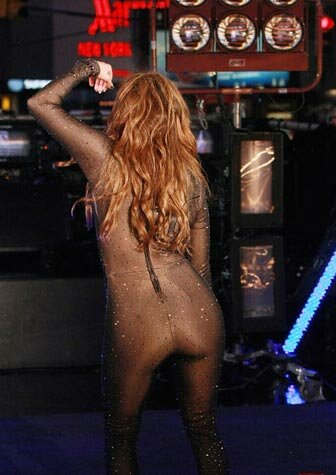 How many times have you ever wanted to get a view of Jennifer Lopez' booty? Many times probably and if you didn't get a chance to watch Jennifer Lopez on Ryan Seacrest hosted 38th Dick Clark's New Year's Rockin Eve on Times Square, then you were probably out having a good time on New Year's Eve.

Those who did catch the show got to see the 40 year-old mother of two, perform in front of an estimated 750,000 party-goers on New York's Time Square during the live broadcast in a form fitting rhinestones body suit as her husband Marc Anthony stood on the outskirts watching.
J-Lo performed a number of songs which included her song "Louboutins" which caused a frenzy after she fell on the American Music Awards but quickly recovered like a champ, as reported on HipHopRX.com
Other songs Jennifer Lopez performed included "Waiting for Tonight" and "Let's Get Loud."
Other performances that were aired were from the new venue in Las Vegas, Aria at City Center. Performers included The Black Eyed Peas, Selena Gomez, Justin Bieber, Keri Hilson, Colbie Caillat, Orianthi and Robin Thicke.
Check out photos of J-Lo in her tight bodysuit